Meet Alicia Crane, Coyle Institute Nurse Practitioner and BBL Specialist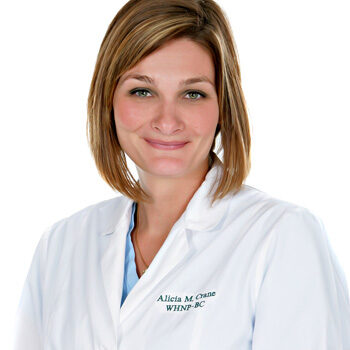 Nurse Practitioner Alicia Crane knows that the first important step in helping a patient to listen to their concerns and have genuine sympathy for their situation. In her five years as a nurse practitioner at Coyle Institute, she has helped thousands of women address their most personal and intimate problems through safe, effective and non-invasive laser therapies. After she received her associate degree at the Pensacola State College in 2006, Crane began her career in nursing and went on to earn her bachelor's degree at the University of West Florida in 2010. She received and a Master of Science in Nursing from the University of South Alabama in 2012.
Sciton Trained BBL™ Specialist
Today, Crane focuses on treatments using Broad Band Light™ (BBL™). This ranges from cosmetic anti-aging laser treatments to vaginal rejuvenation. She trained with Sciton for BBL™, one of the leading innovators in medical BBL™ technologies.
At Coyle Institute, Crane uses BBL™ to treat the skin and address sun damage, redness, rosacea, acne treatment, hair removal and even skin tightening with SkinTyte. BBL™ helps vaginal rejuvenation through diVaTyte™. diVaTyte™ improves vaginal health, increases sensitivity and revives orgasm function.
"I think the best part is that you really make a difference in a patient's problem areas. Patients come to us afterward with happiness they did not have before the treatment," Crane said. "BBL™ improves self-confidence and the way patients feel about themselves."
When it comes to facial rejuvenation, it's no surprise that sun damage is the most common issue Crane sees in the Pensacola area. Sunspots, freckles, brown pigment and rough texture are all attributed not only to the long Florida summers on the beach but also to the year-round, everyday exposure that people often underestimate.
More issues are present on the left side of the face and left arm. The sun shines down on that side when you are driving. Generally, people do not always wear sunscreen as a day-to-day rule, she said.
"Many people don't realize that hands are exposed to the sun daily and are often a giveaway on your age," she said. "People do not think to care for them the same way with sunscreen and skin care, so often, people will get their hands treated."
"If we do their hands, they often say, "I love my hands the most out of everything!"
In whatever part of the skin a patient receives treatment for sun damage, Crane recommends treating problem areas once a month for five months for optimum results. Then, you should maintain your refreshed look with tune-up visits every four to six months.
After treatment, skin care will be important in maintaining your new, more youthful appearance.
"We can do treatments, and if you just go right back into the sun, you will have more damage than we can fix," Crane said. "So, it is important."
Crane's top tips for skin care include wearing sunscreen every day. Also, you should not underestimate the casual exposure to the sun in your daily life
"The better you take care of your skin regularly, the better off you are."
Women who come to the Coyle Institute with sexual issues and vaginal health problems are equally pleased with the results they get from diVaTyte™ BBL treatments. diVaTyte™ improves sexual function and mild urinary incontinence. It's ideal for post-menopausal women, those with vaginal atrophy and those recovering from chemotherapy and radiation treatments for cancer.
"It's about more than simple function," Crane said, "it's about the woman's self-esteem and confidence."
"Many women are really pleased with it and get good results with stimulation and sensitivity – and it tightens skin, as well," Crane said. "They see a big improvement."
For Crane, it's a gift to help women through issues that may be difficult to talk about, whether it's fears about aging, concerns about appearance or addressing sexual problems.
"I like to get to know my patients on a personal level," she said. "I am very caring and truly want to help with whatever issue they have."